Jemima Puddledub
158cms, Skewbald Mare, born 1995, Sire: Dixi (Bel), Dam: Blue II
A true horse of a lifetime, Jemima was special from the day she was born.
She is still here at Puddledub, now as a broodmare.  See her own dedicated page
Puddledub Noorie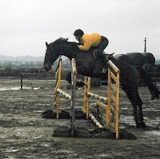 16.2hh, Dark Bay Gelding, born 1997, Sire: Blaze O'Gold,   Dam: Red Rag (Maggie),    DamSire: Trimmingham
Sadly orphaned at birth when the mare ruptured a gut, he was fostered onto Hazel England's Advanced Event mare Blue Feathers.  A very 'human' orientated foal because the substancial amount of handling he had in his early days, he has retained that affection into his adult life and is a true friend to everyone he came across.
 A big gawky, immature youngster, her was given time to mature.  Backed at Puddledub and then ridden away at Edenside Stables, Leuchars before going for further schooling with Louisa Milne Home and spent a summer with Trish Hunter being ridden by a 12 year old girl.
A truly talented horse who could have gone all the way eventing, he was sold in 2005, but has sadly done very little since then.
Puddledub Misprint
153cms, Roan/Frosted Appaloosa Mare, born 1999, Sire: Dixi (Bel), Dam: Blue II
Full sister to Jemima Puddledub.  Unbelievably she was born bay, and by the time she was a few weeks old looked like someone had dropped a bag of icing sugar all over her back and quarters!  She slowly faded out to be proper 'pink' pony!  She looke amazing when all scrubbed clean - 4 white socks, a white mane and tail and then this stunning pink colouring.
Backed and broken at Edenside Stables, she remained there for a while as she was too small for anyone at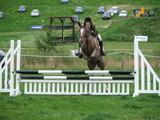 Puddledub to ride.  Will Murray took over the ride in the early summer of 2005, just as her coat was beginning to come through.  The plan wa always to sell her, as she would make an ideal PC pony, Working Hunter Pony or fun Mother/Daughter horse.  Will took her to Fife PC One Day Event at Montrave at the beginning of August, and although arriving late because of lorry problems and not walking the XC course or having any time to work in for the dressage, she jumped double clear and won.  She then went on to compete at Intro level at the BE Gleneagles ODE event, where the event site was bathed in such thick fog at the beginning of the day when she did her dressage & SJ, that the event was fortunate to be able to continue.  Despite barely being able to see one end of the arena from the other, she put up a creditable performance, jumped another double clear and won a strong section of 40 good horses.
During the following week she was sold to the Foubister family for daughter Kate, but they kindly permitted her to travel to Aswanley to compete as she was entered.  Another good performance for a truly novice pony, saw her make a creditable 6th place after 2 poles down show jumping, but once again showing boldness and athletitism across country.
She was delivered to her new home on the way back from Aswanley.  Kate Foubister is having great fun on her and has competed at a few BE Intro events and has also represented the Angus Branch of the Pony Club.
Further youngstock profiles still to be added!